How & Why I LOVE to edit fun geeky stuff!
I seriously love when clients ask me to edit fun geeky stuff for their photography session! It does take a lot more time and work on my part afterwards but I love digital painting! I travel all over the midwest and beyond to create amazing work for my clients. I was asked recently by a client if they could see more before and after images. So I decided to write a blog and include those images plus a few FAQs.
So what makes me different than any other photographer that shoots cosplay or fandom photography?
I am a GEEK too! Do you want to talk about Star Trek Catan? Or how my husband has a standing Wednesday night appointment for D&D? Or how my kids were learning to play WoW before they could actually read? Or how our entire loft & guest room is dedicated to all our fandom art, signed photos, and cool stuff like my wand collection!
A small selection of my favorite session themes
Marvel
DC
Disney
Fairies
Doctor Who
Harry Potter
World of Warcraft
Starcraft
Mortal Combat
Steampunk
Medieval
Star Wars
Pokemon
Assassins Creed
Star Trek
Firefly
Dragon Age
Classic Games
Walking Dead
Game of Thrones
Elder Scrolls
Lord of the Rings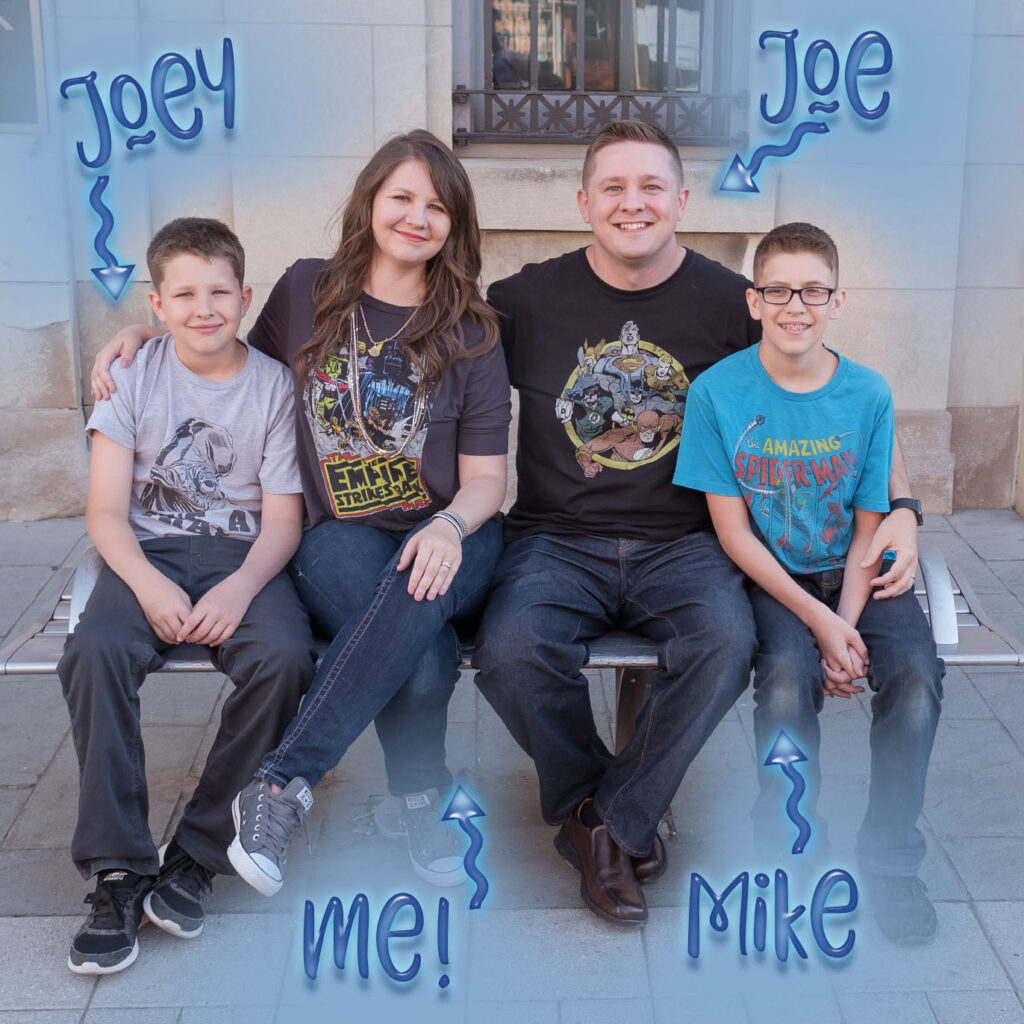 ← Yep, theres my geeky family! (this is a few years old)
Mike turns 17 in September and is in high school this year and works at Books & Brew Brownsburg. He loves comic books, coding, D&D, & video games! He really wants to get into designing his own games too!
Joey is 15 this year and is in high school too. He is really into Warcraft 3, studying bugs in his microscope, cooking, & building things.
Joe, my hubby & high school sweetheart, is in finance and is crazy amazing with numbers. You can find him playing Dead by Daylight or Civilizations, hanging out watching UFC or some random sports thing I know nothing about, playing D&D with his cousins at Family Time Games, or reading some comics.
ME! If I am not busy shooting or editing you will find me drinking gallons of coffee, hanging out with cool geeky friends, helping out other local photographers, playing board or deck building games with my friends and family, or eating LOL I do love all my food. No joke, I will love you if you bring me baked goods.